A Smile Makeover Can Address Multiple Cosmetic Issues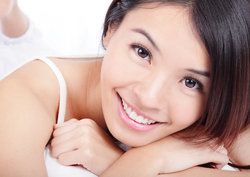 Dr. Patrick F. McEvoy can combine several cosmetic treatments to help you achieve a beautiful new smile that enhances your entire appearance. Dr. McEvoy will provide a thorough pre-treatment consultation to help you choose the right treatments for your aesthetic goals. He will also provide a wax-up, allowing you to preview the results of your smile makeover. Contact our Mountain View practice to learn more about this personalized treatment, and how it can help you achieve the look you have always wanted.
What Can a Smile Makeover Do For Me?
Like many of our patients, you may envision a smile that a single cosmetic treatment alone cannot create. Perhaps you want to straighten your teeth and, at the same time, reduce discoloration. Or, you may want to address severe intrinsic stains on one tooth, while lightening extrinsic stains over the rest of your smile. A smile makeover can address all your goals at once by combining procedures. Together with Dr. McEvoy, you will design a treatment that can give you the smile you desire. If you are experiencing gum disease, decay, or other conditions, we must address them before moving ahead with cosmetic procedures.
The Components of a Smile Makeover
A custom smile makeover can include:
Teeth whitening: Both in-office and at-home teeth whitening treatments can dramatically reduce stains on the surface of your teeth. Whitening is quick, convenient, and comfortable.
Porcelain veneers: Dr. McEvoy offers several types of veneers, and he will help you choose the right kind for your smile. Options include traditional veneers, no-prep veneers, and same-day CEREC

®

veneers.
Cosmetic orthodontics: Dr. McEvoy can provide a special retainer to straighten slightly crooked teeth. This treatment can incorporate Invisalign® for optimal results.
Tooth-colored fillings: Fillings are technically a restorative treatment. However, if you have metal fillings, Dr. McEvoy can replace them with tooth-colored composite resin for a more natural appearance.
Dental crowns: If you have a severely misshapen or stained tooth, a crown may be the best way to enhance your smile. Dr. McEvoy can provide a same-day CEREC

® crown, or a zirconia crown created at an offsite lab.
Planning Your Treatment
Dr. McEvoy will help you select the right treatments for your smile makeover, based on your cosmetic goals, schedule, and budget. He wants you to be an active participant in this process so that you can be completely satisfied with the final results. Working conservatively, he will never pressure you to undergo more treatment than you actually want.
Before performing the makeover, he will create a pre-treatment wax-up, which will give you a detailed preview of what your smile will look like after treatment. If desired, you can request adjustments to your treatment plan, based on the wax-up. Dr. McEvoy will only begin your makeover when you are fully satisfied with the plan.
Schedule Your Smile Makeover Consultation
Find out how a smile makeover can enhance your appearance and self-confidence. Contact Dr. McEvoy's office to schedule your appointment. We look forward to helping you look and feel your very best!