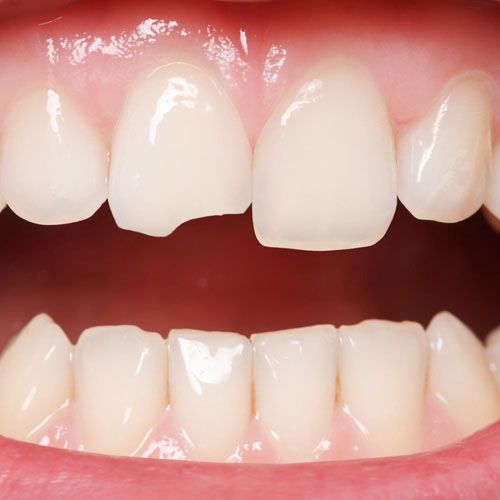 Injuries can affect your smile in so many ways. Sometimes you lose a tooth completely, while other times you suffer a crack or chip. Whether minor or major, injured teeth should be tended to, which is something we do often at our Mountain View restorative dentistry practice.
Let's look at the different issues caused by damaged teeth, and then go over various treatment options for the problem. As you'll see, cosmetic and restorative dentistry treatments can be extremely effective.
Problems Caused by Chipped Teeth
There are two primary kinds of issues caused by chipped teeth:
Problems with Dental Health – If you have a tooth that is seriously chipped or cracked, it can make dental pain and tooth sensitivity more likely. It can also make a tooth more likely to break completely, which can be quite painful.

Problems with Smile Aesthetics – A chip, even a small one, can lead to self-consciousness. If your job involves publicly interacting with others, this can have a negative impact on your success.
Thankfully there are many different kinds of treatments for chipped and cracked teeth.
Dental Bonding
For very minor chips, dental bonding tends to be most ideal. Dental bonding uses tooth-colored dental resin that is painted directly onto the tooth. This builds out tooth structure and masks the chip from view in the process.
Porcelain Veneers
For more serious chips that are still predominantly cosmetic in nature, porcelain veneers are an ideal solution. These thin shells of dental ceramic are fixed to the fronts of the teeth. When in place, porcelain veneers conceal various flaws from view, allowing patients to smile with renewed confidence.
Dental Fillings
When more serious damage is done to a tooth that affects overall structure, the ideal treatment to consider involves a dental filling, like the ones used for cavities. Dental fillings will rebuild tooth structure that's been compromised. A metal filling or a tooth-colored filling may be used depending on the needs of the patient.
Inlays and Onlays
Inlays and onlays are more substantive dental restorations. These function like traditional fillings but they are larger and able to restore more of a tooth's structure. Both inlays and onlays can be used to rebuild the biting surfaces (cusps) of the teeth. As with fillings, metal or tooth-colored inlays/onlays can be used.
Dental Crowns
For severe chips that affect most of a tooth's structure, a dental crown is generally the best option. Dental crowns cap seriously damaged teeth, protecting them from harm and improving dental health in the process. The type of crown to use will be determined by the tooth that is being restored.
What If a Chip Cannot Be Fixed?
When a tooth is seriously cracked and cannot possibly be saved, your ideal option for treatment is likely extraction. In these cases, never fear. There are many different restorations that can be used to replace a missing tooth, from bridges and dentures to implant-supported dental crowns. We can discuss these treatments during a consultation at the office.
Learn More About Restoring Teeth
For more information about treating tooth damage and restoring the health of your smile, be sure to contact our cosmetic and restorative dentistry center today. We will work closely with you to ensure your smile looks healthy and beautiful.